WE ONLY SELL BARE ROOT PEONIES
Welcome to
Peony Farm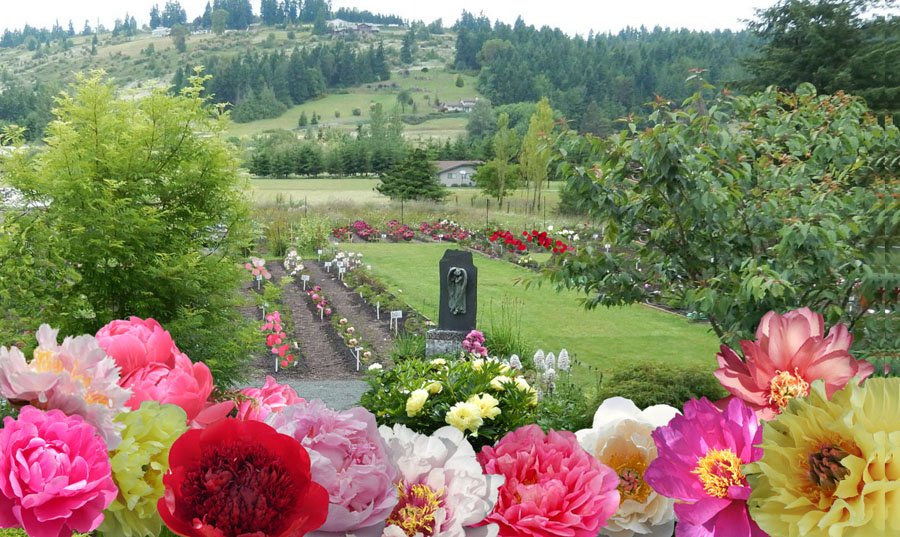 Entrance Beds at Peony Farm Gardens


We invite you to browse through our store and shop with confidence. Online ordering is safe and easy using our secure credit card processing system with PayPal. (PayPal account not needed.)
We offer for sale choice, distinctive varieties of bare root peonies along with the new and exciting itoh peonies.
For more information about peonies, click here www.ilovepeonies.com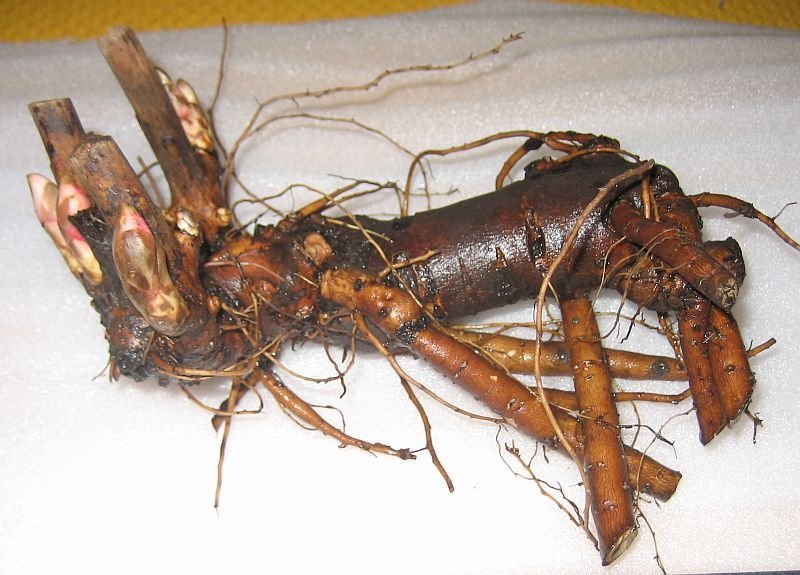 ***Click here for the PLANT HARDINESS MAP
to find out what peony variety will thrive in your area. Peonies require winter cold to flourish.
However, some areas have those pocket areas that will allow your peonies to grow well.
The Hardiness Zones were developed to support you in making informed decisions.
---
ATTENTION
WHOLESALE BUYERS, GROWERS
This year we have an abundance of
good quality bare root peonies.
We are sharing this for sale to our wholesale partners.
INCREDIBLE PRICING!
CALL: AMY 360-8080-7239
TO DISCUSS YOUR NEEDS!!!
Growers --- Special Black Plastic Crates for harvesting, storing and gathering.
BLACK PLASTIC CRATES

ON SALE $6.00 EACH

PICK UP ONLY





LOT PRICE 25 pcs @ $5.00 each

CODE: CRATES25




---

LAST SALE
ALL SPECIALS END 11/30/2017



MYSTERY MIX
We lost some tags on several rows of peonies.
This is an excellent opportunity for you, because
we are offering the "Mystery Mix" for $80.00 for 10 pcs.

Imagine the excitement of discovering what peonies you have come blooming season.
***VALUE SALES***
Buy 5 pieces, same variety
5 pcs for $20.00
Min. Purchase $75.00
Cannot be combined with other specials.
Items below does not qualify for this sale:
Lemon Chiffon Peonmy
Pastel Elegance Peony
Itoh Peonies
Tree Peonies
Our computer system wont allow me to program this exception.
Pls note that orders for these items under this program will revert to regular price. Our apologies. Thank You.
CRATES
520 ANGEL CHEEK
520 BEAUTIFUL SENORITA

Black Plastic Crates for storing bulbs, carrying flowers, storing other stuff

PICKUP ONLY

$100.00

$20.00

$20.00

520 BOWL OF BEAUTY
520 GAY PAREE
520 MANY HAPPY RETURNS

$20.00

$20.00

$20.00

520 TOM ECKHARDT
520 WALTER FAXON
ABALONE PEARL

$20.00

$20.00

$22.95

ALHAMBRA TREE PEONY
ALHAMBRA TREE PEONY
ALLAN ROGERS

4-5 YR OLD ROOT

Golden Yellow

Early

White Double

Early-mid bloomer

$110.00

$150.00

$28.95

Allium Gladiator
AMALIA OLSON
ANGEL CHEEKS

Allium, Gladiator what a beautiful backdrop for your peonies!

5 pcs for $22.95

White

Early-Mid

VERY LIMITED

$22.95

$28.95

$28.95

ANNA MARIE TREE PEONY
ANNA MARIE TREE PEONY
ANNA MARIE TREE PEONY

4-5 YR OLD ROOT

Orchid Lavender

Early-Mid

additioal shipping applies

7-8 YR OLD ROOT

Orchid Lavender

Early-Mid

Additional Shipping applies

Orchid Lavender

Early-Mid

$200.00

$500.00

$100.00

APRON STRINGS
ATHENA
AUTENS' PRIDE

Pink cactus life formation

Late bloomer.

$22.95

$25.95

$24.95

AVALANCHE
BANQUET TREE PEONY
BARON THYSSEN BORNEMISZA TREE PEONY

Strawberry Red Tree Peony

Mid bloomer

Semi-double, early tree peony. Unusual.

$30.95

$90.00

$100.00

BARTZELLA ITOH medium
BARTZELLA ITOH PEONY
BARTZELLA ITOH PEONY LARGE

Yellow small-med

Mid-Late bloomer

Yellow

Mid-Late bloomer

Extra shipping cost

$50.00

$95.00

$225.00

BEAUTIFUL SENORITA
BESSIE
BLACK PANTHER TREE PEONY

Large pink blooms

Sweetly scented

Large fragrant black red

Large plant

$24.95

$26.95

$200.00

BOREAS TREE PEONY
BOREAS TREE PEONY POTTED
BOUQUET PERFECT

Very dark, rick burgundy

Mid bloomer

Very dark, rick burgundy

Mid bloomer

$90.00

$175.00

$28.95

BOWL OF BEAUTY
BOWL OF CREAM
BRIC A BRAC PEONY

Unusual cream, green and rose streaking

Mid bloomer

$22.95

$22.95

$22.95

BRIDES DREAM
BRILLIANT PEONIES COLLECTION
BUCKEYE BELLE

White, Blush

Mid bloomer.

Brilliant Colln

with Bartzella Itoh

6 Varieties

Deep Mahogany

Early bloomer

$24.95

$175.00

$25.95

CAROL
CHARLIES WHITE
CHEDDAR CHARM

Velvety Red

Early bloomer

Photo Credits: Carol Moffett

Double White, Early

2013 INTRODUCTION

White, Yellow

Mid bloomer

$32.95

$15.95

$22.95

CHERRY FESTIVAL TREE PEONY
CHRISTMAS VELVET
CLAIRE DE LUNE

Cherry Red

Early

2014 NEW INTRODUCTION

Exquisite pale yellow blossoms on 10 round petals

No staking

$90.00

$70.00

$26.95

CLASS ACT
COLOR MAGNET PEONY
COMMAND PERFORMANCE

Violet Pink

Midseason

BEE LOVED

Red Orange

Mid bloomer

2013 Introduction

Very Limited Edition

$25.95

$20.00

$25.95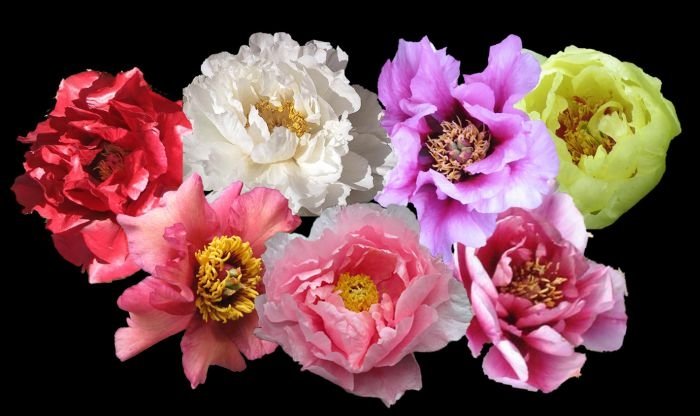 Tree Peonies Available at Peony Farm.
Bare Root Peonies are shipped in their dormant state,
in the Fall.
during the months of October-November.
Thank You for Visiting our Online Store
Peony Farm
Your Peony Central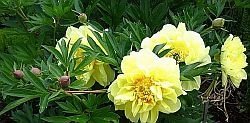 Please join us and "LIKE" us on Peony Farm Facebook Page . Our facebook page contains the latest news and development at the farm.
To read our latest blog, click What"s Up at the Farm" and let us hear from you.